I had so many intentions of taking loads of outfit photos for this week. But I didn't. I remembered each day around 4 in the afternoon, and by then I was covered in kids food/paint/dirt/rain and definitely not fit for photo taking. So there is just one outfit, from today.
Dark skinny jeans - Target, Belt - Ralph Lauren from about 7 years ago, white shirt - Big W, black cropped cardi - Valley Girl and my awesome necklace - Little Miss Momma
But all day my outfit has looked more like this
Me with my apron getting my craft on. Child free!
Linking up here
and for the first time here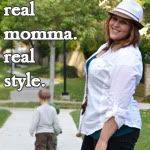 Em xo