This week I actually have two outfits to post. I still forgot the other five days but hey two is better than none, right?
This first outfit was for my
day-trip
to Canberra. I needed it to be comfy enough for a long car trip and lots of walking, so its pretty simple.
Top - Big W, Skinny Jeans - Target, Skinny Belt - Big W, Flats - Payless, Necklace and Ring - Little Miss Momma, Bag - Guess
This outfit has one of my biggest bargains. Something I had been looking for forever, a sweet longline shirt, that didn't come down to my knees (I'm 5 ft 2, just). I found this one at Target, in the kids section and perfect at $8. I actually have it tucked here, normally it comes down past the behind and I love to wear it with tights. Super cute. And these wedges, it was love at first sight. I actually got them for the hubby's march out.

Shirt - Target (kids section bargain at $8), Belt - Sportsgirl, Skinny Cargos - Target, Denim Wedges - Target
Linking up here
and here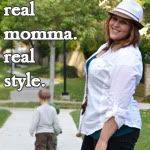 Em xo