Welcome to day two of the

Two Weeks of Handmade Christmas Ideas

series. For day one click here. Today's post is from the awesome

Beth

from

Through The Eye's of The Mrs

.
Take it away Beth!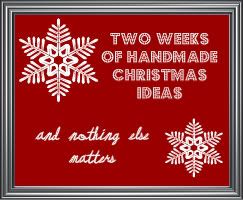 Sharing a bottle of wine is worth saving the memory!
My husband & I love to share a bottle of champagne.
Especially when we are celebrating.
I always save the corks
for some reason.
I can remember the exact moments shared.
The last time we did this it was spring and
we talked for hours.
This is a simple tutorial to add memories to your tree.
Corks
Twine
Screwdriver
Hot Glue Gun
Poke a hole in the top of your cork.
Tie a knot in your twine & trim off ends after the knot.
Add some hot glue in the hole you poked.
Knot side down push your twine into the hole.
Now wasn't that simple enough?
You could always add a date too.
Thank You so much for having me today Em!
I hope you will all stop by for my series this month
Make sure you all head over and say hi to Beth! And come back tomorrow for a great printable from the lovely Rebecca from The Crafted Sparrow. You won't want to miss it!