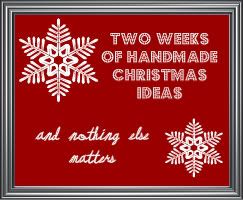 Welcome to day six of the
Two Weeks of Handmade Christmas Ideas
series.
Want to catch up on all of the festive goodness? Head
here
,
here
,
here
,
here
and
here
. And make sure you get your entries in to
win a $20 goodie bag from
J&Ms Eye Candy
shop. Click
here
so that you don't miss out!
Today I am sharing with you some really simple hand stiched fabric ornaments. Using the same principle you can make any shape you like and decorate with just about anything. I stiched the buttons on but you could just as easily use hot glue and stick them down.
All you need for these sweet hearts are some scraps of fabric, some short lengths of ribbon, lace or twine, a little stuffing to pad them out and some buttons or similar for embellishments.
Simply cut out the heart shape x 2. If you are sewing on your embellishments you do this now, using glue for yours? You can do that at the end!
Now begin hand stitching (I stiched mine in crosses) at the bottom most point. Work your way towards the top, but stop just before you get there. Make a loop out of a piece of ribbon or lace and place the open ends of the loop inside the layers of fabric at the top centre of the heart. Continue stitching around the shape, your loop with be held in place.
About half an inch before the bottom, stop and stuff. then continue to stich up the remaining gap. Done! They are super sweet and can be made in just a few minutes from items you have laying around. Perfect!
Head back tomorrow for a gorgeous felt stocking tutorial from the awesome
Caroline
at
Good Times Never Seem Sew Good
. And don't forget to enter the
J&Ms Eye Candy
giveaway!