Hi all! Welcome to day eight of the
Two Weeks of Handmade Christmas Ideas
series. There has been so much goodness already, don't miss out catch up on all the fun.
day one click
here
day two click
here
day three click
here
day four click
here
day five click
here
day six click
here
day seven click
here
And don't forget to enter the
J&Ms Eye Candy giveaway!
Super low entries so your are in with an awesome chance of winning a $20 goodie bag from their store. Click
here
to enter.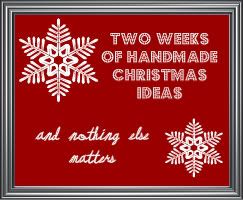 Today I am so thrilled that we have the amazing
Mindy
from
Marigold Road
, with a fantastic calendar!
So take it away Mindy.
Hi, I'm Mindy Harris, owner of MarigoldRoad. I am a Kansas native, bride to my high school sweetheart, and mother of two. I launched my blog,
www.marigoldroad.com
, 4 years ago, to chronicle my first pregnancy. But my current writing
focus is to promote community through inspirational posts and crafty/confectionary presentations. My Etsy shop, also termed MarigoldRoad, offers handmade wool felt headbands, hoop art, and yarn wreaths, all of which incorporate vintage materials, and are crafted in the wee hours of the night. You can also shop there for mid-century vintage decor & housewares.
It's such a pleasure to be guest posting on Em's very adorable blog, and I'm excited to share this cute calendar with you today.
This year I wanted to make my two kiddos a special calendar that tells the story of Christmas in a Biblical way.
I found the verses and little token for each day all set up at
this blog
.
Then I used various materials, including vintage wrapping paper, that I already had, to make a cute, unique calendar.
First I covered a bulletin board in vintage wrapping paper. I used hot glue to affix it, and X-acto knifed the edges for a fairly clean look.
Then I cut out 25 circles in two different kinds of paper (brown and red, 50 total) and glued them, layered, in even lines across the bulletin board.
Then onto each circle I glued a mini-clothes pin. The clothes pin holds each little parcel. I made the clothespins by gluing glitter and scrapbook paper to the top of each.
Each clothespin also has a circle glued to the end with the number of that day on it.
Lastly I wrapped each "token" and corresponding verse in brown paper, tied with baker's twine.
I also made a Merry Christmas sign to attach to the board. Just burned some brown paper. The house smelled good!
Your children will have a blast opening a treasure each day and hearing a little from Scripture about why Christmas is so awesome!
Thanks for having me, Em!
xoxo
How awesome is this? I love it! Thanks Mindy, make sure you all stop by her blog and say hi.