Em here, I am so thrilled to have Heather here today to share her amazing journey with you all. Please take the time to read it and then head over
here
and give her some love.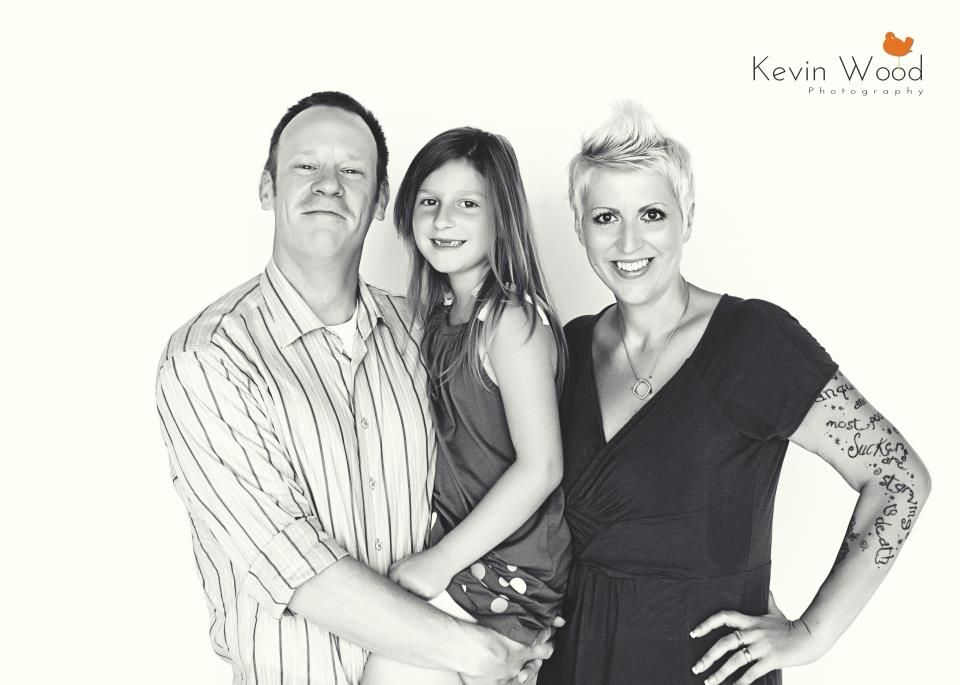 My 7-year-old daughter's response to questions about her mother's battle with cancer is never different. She always says, "I saved Mommy's life." There are many individuals who might disregard the seriousness of her words or who might claim my child doesn't understand what she says but these people are wrong. I will relate my story to prove Lily's words.
My spouse, Cameron, and I waited 7 years after our marriage before we decided to have children. I was 35. I was anxious about age difficulties associated with conception and pregnancy. I was uncertain how long conception would take. We were lucky and only 3 months later we were able to confirm the pregnancy! We were both ecstatic! Soon we could look forward to holding our baby! My emotions were a mixture of shock, excitement and nervousness. I was going to become a mommy! Today I laugh at how quickly I started to act like a mother. I wondered often what type of mom I was destined to become. Through my enthusiastic thoughts ran a myriad of questions. Despite my concerns, I knew first and foremost I wanted to be a good mom.
I could have floated through my pregnancy ten times over and still enjoyed every moment of my journey from expectant parent to actual mother until delivery day. Delivery day was unexpectedly scary. My sweet baby, who I called Lily, was breech. My doctor recommended an emergency C-section which was done. When I finally held Lily to my heart I was overwhelmed and surprised by the sheer amount of emotion my child inspired. I was overcome with a fierce desire to do everything and anything required to provide her with an infinite amount of love, protection and happiness. I would cherish Lily. I was sure Lily would bring out the best in me and I in her through all the future moments of parenting yet to come. In that moment nothing else mattered but Lily. My child was my reason for being. And then my life changed in a way I could never have imagined.
When Lily was 3½ months old, my doctor somberly informed me of my
diagnosis of malignant pleural mesothelioma
. I was shattered. According to my doctor I would live only 15 months without immediate treatment. My husband Cameron was my rock and I thank God for the blessing of him. After the diagnosis I could not overcome the stunning shock of the news and sat there thinking of my precious child and what would happen to her. My mind didn't want to process the thought of how Cameron with Lily could even exist without me in the world. We were a family. While my mind spun in denial, Cameron paid close attention to the doctor's recommendation. Knowing me so well, Cameron confidently assured the doctor that we wanted the most effective form of treatment. We were soon on our way to Boston to consult with the world's best
mesothelioma experts
. I ended up going through the extreme procedure of having my entire left lung, the left lining of my heart and diaphragm removed. I experienced an 18 day hospital visit for recovery as well as 14 days spent in Boston's wonderful outpatient facility. I stayed 2 months at my parents' home in South Dakota where Lily was and had been since I had started treatment and surgery. Finally the day came when Cam, Lily and I could return home to Minnesota. Once back at our home, I completed my chemotherapy and radiation treatments.
Through all the tough decisions I had to make with Cameron by my side, foremost in my mind was Lily. I wanted to be there for Lily. I made the necessary decisions even though at times I agonized over separations from my baby. I missed Lily's sixth month. I hated being away from Lily. In order to provide for her I had to make sure I was strong and healthy. I had to be brave and face the scary situation of uncertain surgery as well as the chemotherapy and radiation treatments. With treatment, I had a better chance of being there for Lily as she grew. Lily was my courage and inspiration.
Mesothelioma is a cancer that has the propensity of killing nearly 95% of those who battle it. As I reflect upon my past I am filled with certainty that becoming a mother gave me the strength to keep fighting even on my darkest days. Knowing Lily would need me as she grew from child to adult infused me with determination. My child was my strength. My darling Lily is absolutely right when she states, "I saved Mommy's life."