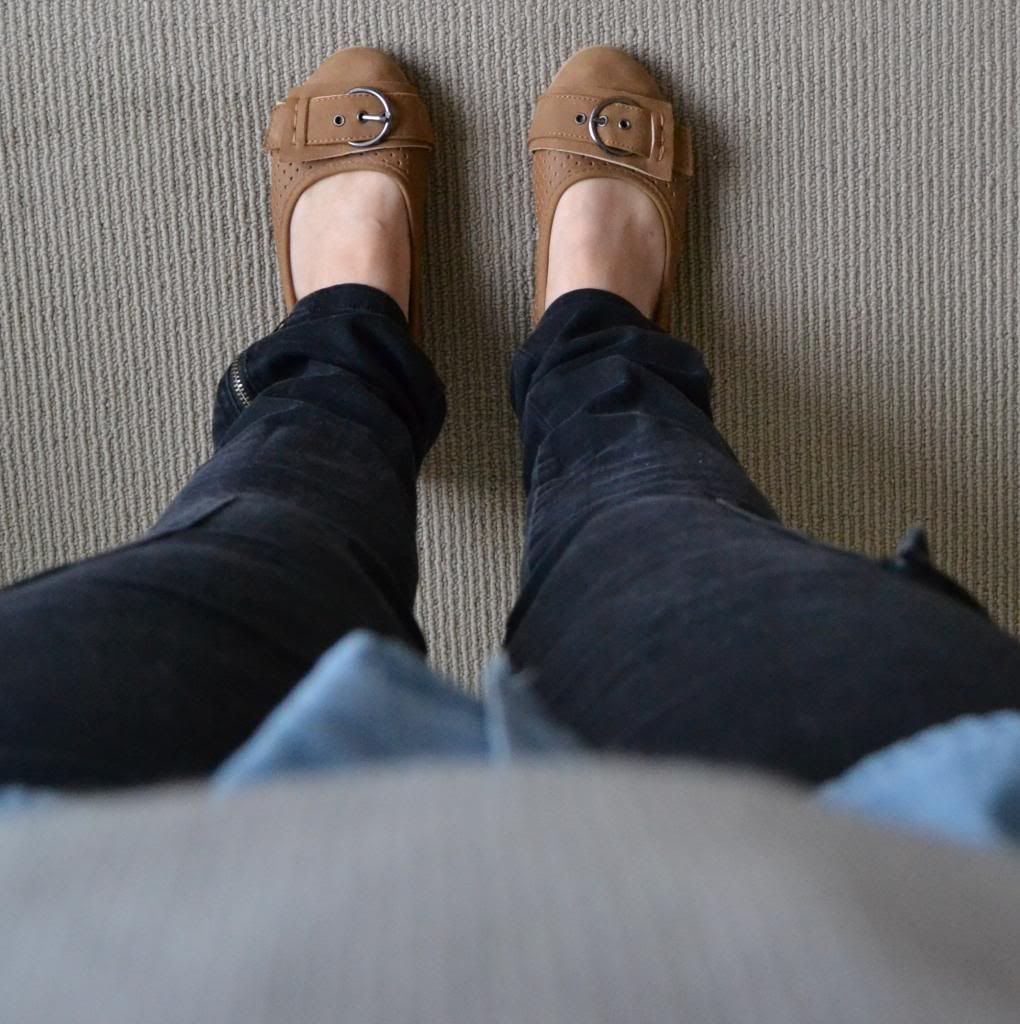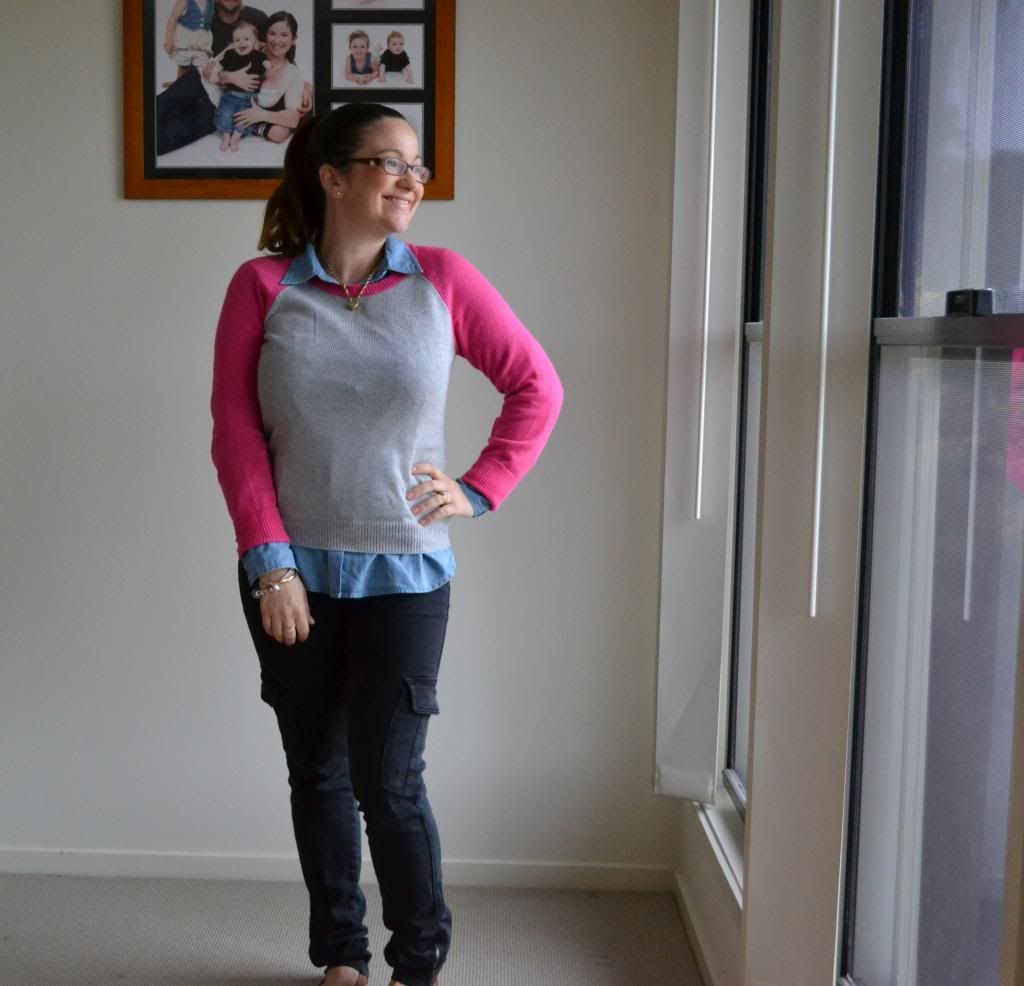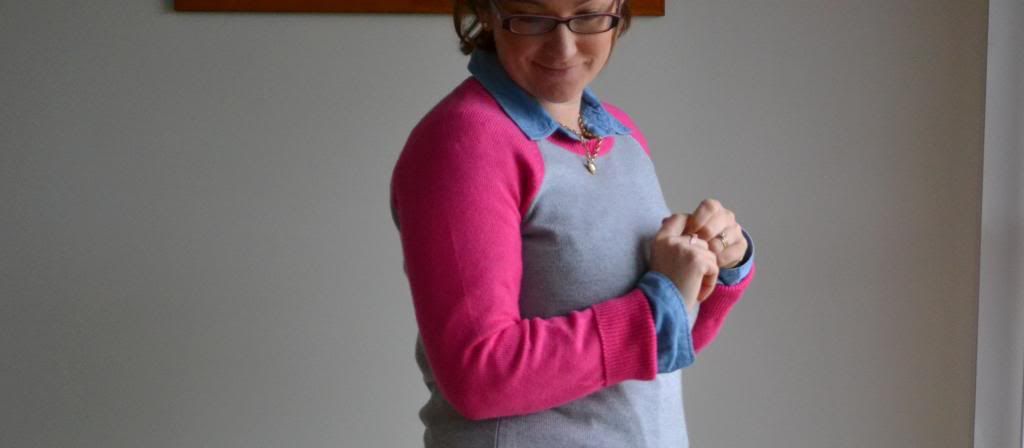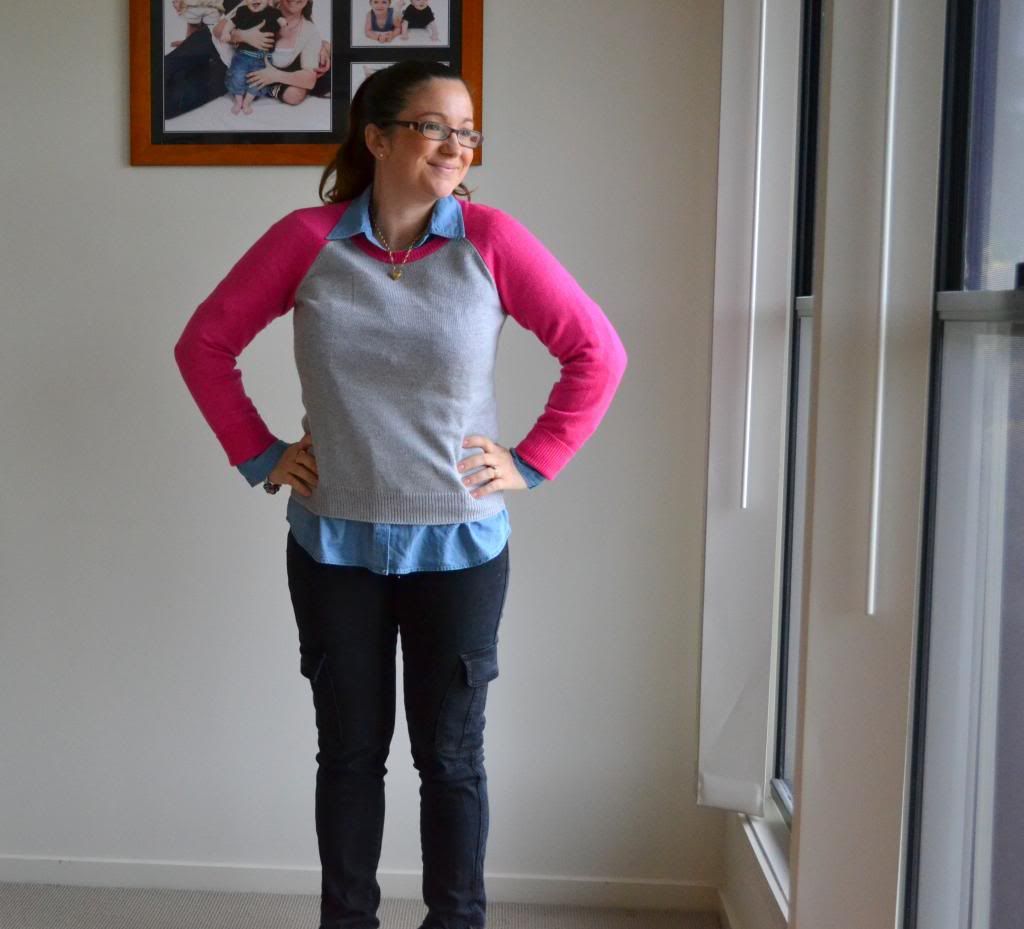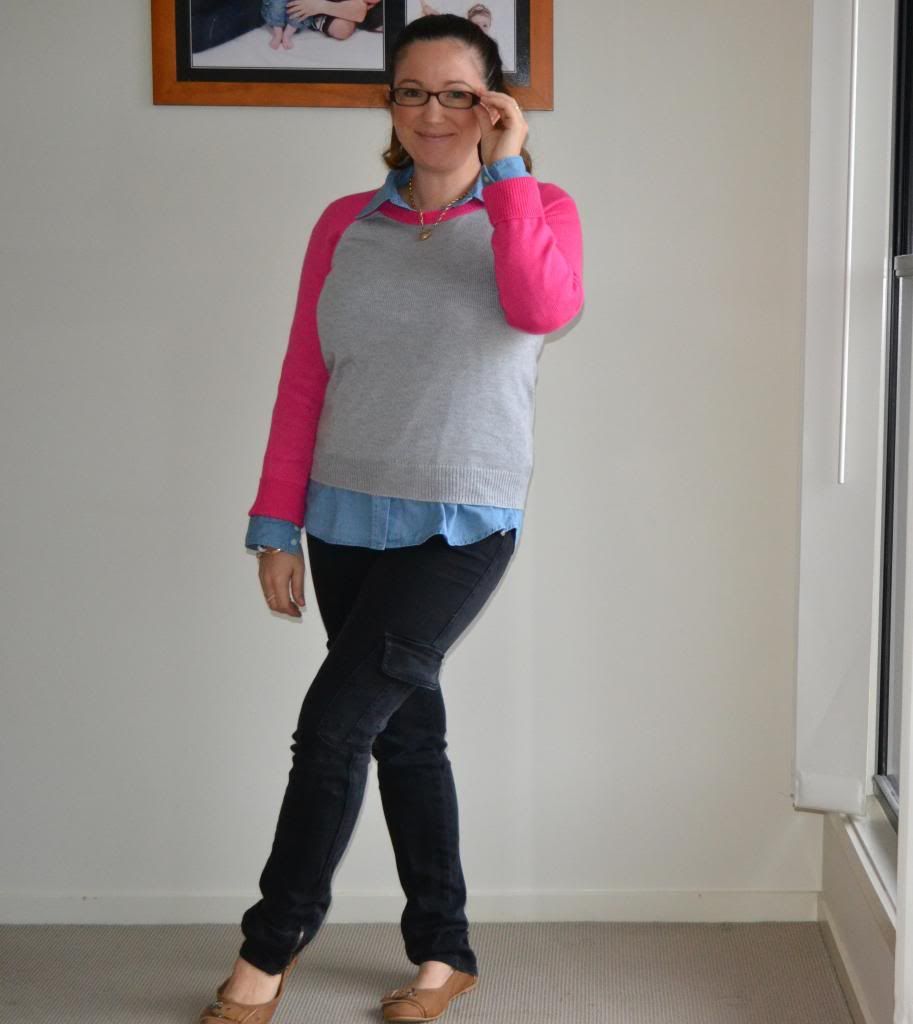 Chambray, Sweater, Shoes: Big W, Black Cargo Skinnies: Target, Earrings, Necklace & Bangle: Gifts, Bracelet: Pandora, Pink Chevron Ring: Cotton On
Being a mum, wife, running a home, sticking to a budget and wearing cute and fashionable clothes goes hand in hand. Obviously that statement is a joke. Or is it? Well the truth is that it comes down to what your idea of dressing well is. If you don't like my slightly casual, tending towards conservative style that's cool but you may just want to skip this post. I won't hold it against you. Promise.
For me I am not at all interested in labels or brands. I also don't lean toward the latest trend item in clothes, in accessories sure, but seriously some of the latest clothing trends aren't my taste. I like to look at them all, of course, but I then like to interpret it my own way. Sure I am always willing to make exceptions for trends that really catch my eye, coloured jeans anyone?
Being a mum and living on one wage means that I am not willing to spend a lot of money on clothes. I just can't justify spending $50 on a T-shirt or $100+ on some pants. It's just not going to happen. I have better, more important things to spend our money on.
You need to keep your eyes open and not be afraid to shop downmarket stores. And know what you want. There is certainly no point going bananas on a tonne of bargains that you are never actually going to wear. We've all done it, and regretted it.
Here's what I do. I scour catalogues, magazines, online for outfit and style inspiration. Pinterest is great for this. Then I narrow down the looks that will work with the current season and my body type. Once I know what I am in the hunt for, I set myself a maximum spend amount. Now this all depends on what it is that I am after. Obviously certain items will get a higher amount, like a winter coat, a pair of boots or some jeans, but even then I am very rarely willing to part with more than $50. So that means I have to be patient and wait it out more often than not. I will go to loads of different stores until I find the specific piece I want. If its at or under my allocated spend amount, I will get it. If its not, I will wait. Until there is a sale at that store, or until I find a coupon code or a voucher. Or I will go on the hunt for an alternative. You have to be willing to compromise from time to time when you are shopping on a budget.
You also have to make sure it is workable with other items in your wardrobe. There is no point getting a great bargain of a top, if in order to wear it you also need to buy a new skirt, shoes and jacket. That my friend is not value for money, unless of course the skirt, shoes and jacket were already on your shopping list!
My last piece of advice for today. Learn how to alter your clothes, or makes friends with someone who can. I can't tell you the number of times I have had to alter clothes. I am short so I always have to take clothes up, I'm used to that. But what if you can only find the blouse or skirt you love in a bigger size than you'd normally wear? Alter it baby! A couple of darts in the back of a blouse, or taking in the side of a skirt can mean you don't have to miss out on the item you really wanted that was the right price, just the wrong size.
Altering also comes in super handy for people in the same stage as me. Post baby and not quite what I was before, hips are still wider than usual and don't even get me started on the bust line. Yet I am smaller than I was a few weeks ago. I could just quit trying to dress nicely and wait till I am back in shape, or I could purchase what fits now and alter it as I slowly get there.
What are your dressing tips and tricks? Do you style on a budget or are you lucky enough to get to splurge? Talk to me ladies!